There is often confusion when it comes to many of the terms surrounding mental health. This includes many of the roles and services. Many folks may not realize it, but a psychotherapist does not offer the same services that a psychiatrist will offer patients.
It can be challenging to know if you should seek out a therapist, social worker, or psychologist. There often appears to be overlap, which can make things even more confusing. It can be helpful when addressing a challenge to know the different options, and how they function individually or in tandem.
THE FIELD OF PSYCHOTHERAPY
Psychotherapy is the use of psychological methods to help a person change their thoughts or actions. These tools can be used to take care of the following issues:
Navigate life challenges,
Reduce stress,
Improve communication,
and increase intimacy.
There are many different approaches with each one grounded in a different psychological theory. People who work in psychotherapy have titles like:
Social worker,
Mental health counselor,
Therapist,
and Psychologist.
In the United States, all those people have obtained at least a master's degree in their field and are licensed to practice in their state. The requirements vary by state, however all of these individuals have received hours of training and supervision in their field.
They also have extensive knowledge about emotions and human behavior, but they are not medical doctors. They work with emotional and behavioral challenges using psychological interventions. This is commonly known as "talk" therapy.
Talk therapy can be highly effective on its own. However, there is no one size fits all to mental health, and sometimes medication can be an effective tool. In those cases, a therapist can collaborate with a psychiatrist to develop the best treatment plan for the client.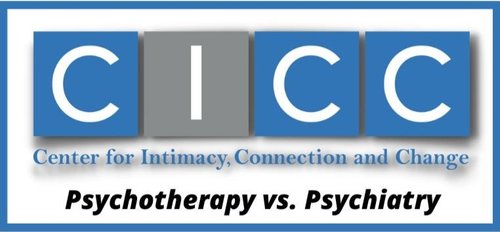 A therapist can offer education around medication and its side effects. It can also be helpful to understand how medication can impact mood and other side effects. However, a therapist cannot prescribe medication. A therapist or social worker can provide a diagnosis for a treatment plan, but it does not carry the same weight as a psychologist or psychiatrist.
THE FIELD OF PSYCHIATRY
Psychiatry is the medical field that focuses specifically on mental health disorders and medications to treat those symptoms. Psychiatrists assess symptoms and prescribe medications that support people with a mental health diagnosis. They can offer psychotherapy as well, and offer integrated treatment options.
COLLABORATION
Many people choose to start with one or the other based on how their issue presents. Often, if a person carries a diagnosis like schizophrenia or bipolar, and experiences severe symptoms that impact their ability to function, they begin with psychiatry.
The most effective treatment is often a combination of therapy and medication. Medication can reduce symptoms, and therapy is where individuals learn the skills to manage their behavior and emotions. Therapists will often refer their client to a psychiatrist, when they see medication would be helpful, and the opposite is true as well.
ABOUT CICC
The Center for Intimacy, Connection and Change (CICC) is here for you when it comes to many mental health issues, including anxiety and depression. If you want to improve your relationship, need support with separation or divorce, need help with intimacy, or are trying to resolve family conflict….our supportive, solution focused approach will help you live the life you want and deserve.
You can schedule a free consult here, or contact me direct by emailing: naami@centericc.com
THE CICC TEAM